We are using the Learning Genie App to collect In-Kind activities digitally. This will help us save paper (trees), save time for staff and help your school with funding.
It's easy to submit an In-Kind assignment to your child's teacher using the Learning Genie parent app. Here's how!
Never Miss Out on Any Assignments
After your child's teacher assigns homework to you, you will be notified with an offline message or a pop-up notification whenever you log into the App.
Click the "View Details" button to see the assignments that you need to complete.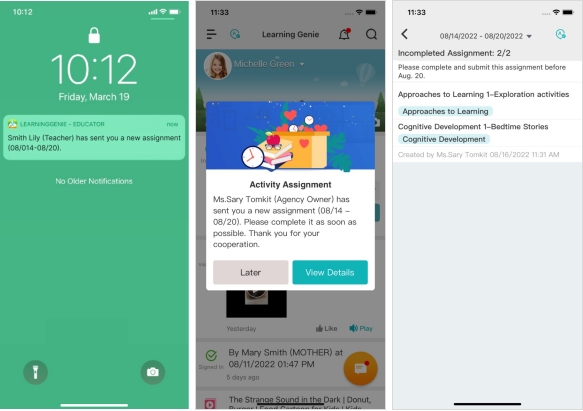 Select an activity, and enter data, time, and comments (if any).
Sign and submit.
On the Home page
You can also view the teacher assigned activities on the Home page.
Click the "Submit" button to submit your assignment.
Quick Access Toolbar
Click the orange button at the bottom right corner. Then, tap the purple heart "In-Kind" button.
Click "Submit Assignment" to view the assignments that you've completed or need to complete. Note: you can also add an activity from the library here.
Then, submit your assignment.