Our recall feature allows you to un-send and re-edit a message that may have had a spelling error, sent to a wrong person, or sent unwanted information.
Here is how you can recall a message:
1. Locate the message that you would like to recall
2. Hold down on the message (in blue) until you see these options appear. Click on "Recall"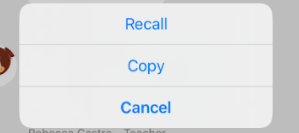 3. Click on "Confirm" to confirm the recall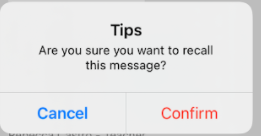 4. You will be allowed to re-edit the message by clicking "Re-edit."
5. If you Re-edit, the message will appear in the message box to edit. Once you have edited, click send to send the edited message!