If you have a preferred language aside from English, you are able to take advantage of the powerful translation available on the Learning Genie parent app. Here's how!
1. Log in to the Learning Genie parent app
2. Click on the orange bubble.
3. Select "Message".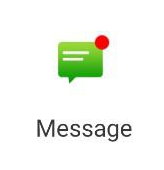 4. Click on your child's name.
5. At the top right corner click on an "A" symbol.
Please note: You cannot translate previously sent messages. Every message you receive after changing your language will be automatically translated!
Need additional guidance? Watch our video tutorial linked below!